Acquisition Details: LIDAR
A reference 3D point cloud was collected using a Mobile Mapping System RIEGL VMX-250-CS6, which was equipped with two calibrated laser scanners RIEGL VQ-250 and four cameras. During data collection, position and orientation is determined using the integrated Applanix POS-LV 510 system, consisting of a high-precision global navigation satellite system (GNSS) receiver, an inertial measurement unit (IMU), and an odometer.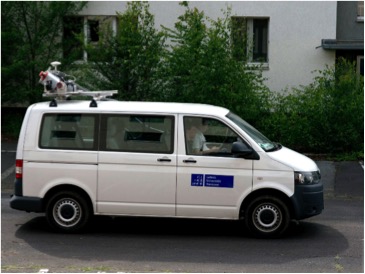 The first processing step computes a post-processed trajectory from GNSS, IMU, odometer and external GNSS base station data (Applanix software). In the second step, the georeferenced 3D point cloud is obtained from this trajectory and the recorded raw laser scanner data (RIEGL software).
The measurement accuracy and precision of the laser scanners is 10 mm and 5 mm, respectively (both 1σ). Absolute accuracy of the point cloud mainly depends on IMU and GNSS performance. Under perfect conditions - no GNSS outages, post-processing with GNSS base station and odometer enabled - an absolute position accuracy of 2 to 5 cm is achievable. Under adverse conditions, especially in built-up areas, GNSS outages and multi-path effects may lead to a lower absolute accuracy, typically in the range of 15-30 cm in height and 20 cm in position. Nevertheless, the relative (local) accuracy of the points along one scan is usually much better, in the range of a few centimeters.
Each laser scanner provides a 360® profile range measurement, at 100 profiles per second and 300 kHz measurement rate. This leads to a point pattern on the ground with a spacing of 2 mm per meter distance across track and 1 cm per m/s vehicle speed along track. For example, at 10 m/s (36 km/h) forward movement of the mobile mapping van, points on a facade in 50 m distance will approximately form a regularly spaced, 10 cm x 10 cm grid.
Due to online waveform processing, multiple targets can be detected with each laser beam. This leads to a good penetrability through non-solid obstacles, such as bushes, trees or fences. However, if two objects are too close, it will be impossible to separate the echoes, and mixed points may result.
For easier handling of the data, the point cloud is projected to UTM coordinates (using EPSG code 25832) and sorted into a regular grid of 25 m times 25 m cell size. In addition to 3D coordinates (East, North, altitude), timestamp and reflectance information is included for every point. 8.4 million points.